研究室新闻(The News)
>
祝贺!研究室成员Noman Sahito顺利通过博士学位论文答辩/ Congratulations! Noman Sahito successfully passed the defense of doctoral dissertation
祝贺!研究室成员Noman Sahito顺利通过博士学位论文答辩/ Congratulations! Noman Sahito successfully passed the defense of doctoral dissertation
我研究室成员Noman Sahito近日通过了博士学位论文答辩,论文的题目为 Impacts of physical characteristics of commercial complexes on visitors behavior in Hangzhou China.(杭州商业综合体物理特性对游客行为的影响)。此次答辩会于8月10日(周一)下午在浙江大学紫金港校区安中大楼A322举行,答辩委员会成员包括浙江大学公共管理学院的邹永华研究员,地球科学学院的王琛教授,建筑工程学院的华晨教授、李王鸣教授和韩昊英教授,章明宇博士担任秘书。经答辩委员会无记名投票,全票通过Noman Sahito的博士论文答辩并建议授予博士学位。恭喜Noman Sahito顺利毕业!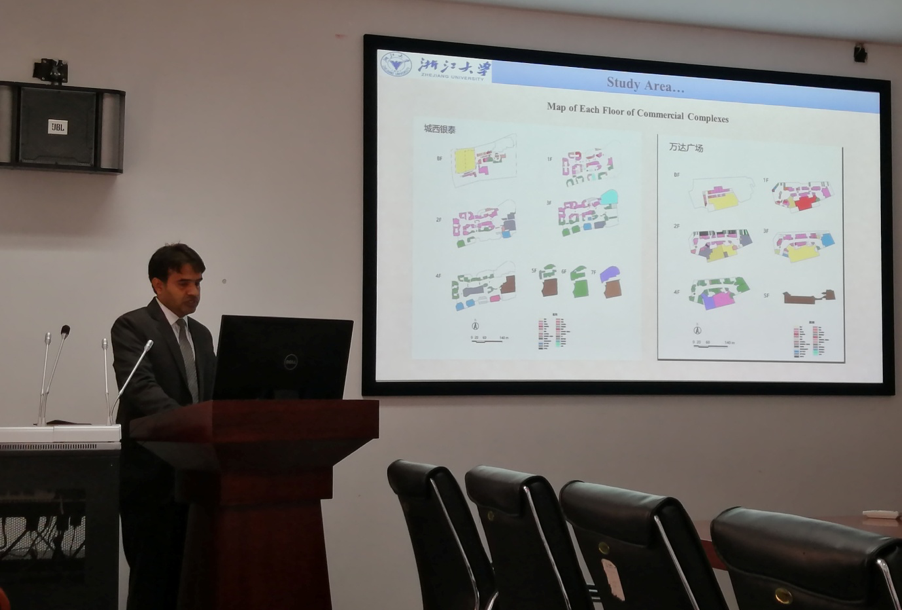 Figure
1
. Noman presenting his research findings, photo taken by author
We are all gratified to see another graduation this year among Han lab's students!
Noman Sahito successfully passed his doctoral thesis defense on Monday the 10th of August in front of a jury of five, in Zhejiang University's Urban Planning Department.
Noman's an assistant professor in Mehran University of Engineering and Technology in Pakistan since 2011. His research journey in China started in 2016 with Urban Public Spaces and commercial complexes as his focus of interest. He participated in four international conferences starting Sept. 2017 and during 2018 and 2020, he published six articles in SSCI journals in collaboration with Prof. Han, Nguyen Thuy Van Thi (aka Vivian) and other Chinese and Pakistani researchers. His papers focused on Urban Public Spaces, more specifically "quasi-public spaces" and sociable places, exploring the features of sustainable urban form and the factors attracting shoppers towards shopping complexes.
Having met the graduation's requirements of Zhejiang University, he presented the culmination of his work in a study addressing the impacts of the physical characteristics of malls on the visitors' behaviours in Hangzhou, China.
With the commercial complexes springing up in many Chinese cities Noman decided to focus his study on this new spatial pattern in Chinese Cities. His research aims to investigate the interior environment of commercial complexes as well as the role of the latter as quasi-public spaces, and the impact of physical patterns on commercial complexes in Hangzhou city, China.
Figure 2. A selection of slides from Noman's presentation
To understand the relationship between the commercial complexes characteristics – ambiance, consumption, entertainment and built environment – and identify how they attract people towards commercial complexes, he used a questionnaire survey and analyzed his findings with SPSS, AMOS SEM. The analysis revealed that the built environment and entertainment, the accessibility and the facilities like density and diversity are key factors for attracting shoppers.
As for the impact of quasi-urban public spaces on commercial complexes, he opted for big data using social media, such as Weibo and Dianping to analyze the question, and mapped the locations of shopping complexes in Hangzhou city. He observed a monocentric spatial pattern: most of the POIs are located in the central urban part of Hangzhou.
Noman considers his research as the first of its kind conducted on quasi-public spaces in Hangzhou City. He adds that for a future research, different physical patterns features can be studied using GIS to examine their impact on commercial complexes and the synergies between them.

Figure 3. Noman taking notes of the jury members' questions, photo taken by author
Figure 4. A picture featuring Dr. Sahito wiih all the jury members – Zou Yonghua from school of public administration, Prof. Chen Wang school of Earth Sciences, Prof. Hua Chen, Prof. Wang Ming Li and Prof. Han Haoying school of Architectural Engineering – and four of his laboratory colleagues, photo taken by Dr. Cheung Ming-Yu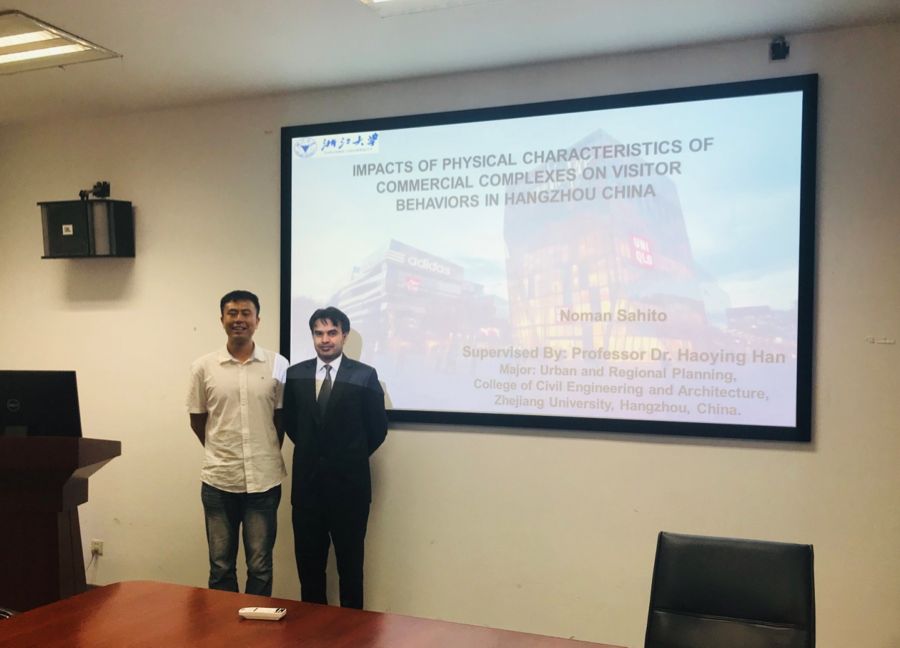 Figure 5. Professor Han and Dr. Sahito sharing a moment of success after the positive results of the ballot, photo taken by author
We congratulate Dr. Sahito for his achievements and we wish him the best for his new journey and future research!
图文编辑/Editor:Sarah Antoine Nasrallah 朱斯斯